We really believe that life should be about more than work. With a globally distributed, remote working team it is very easy to just keep on working. This is great, but it can't go on forever; sometimes it makes a huge difference to take a complete break and have some proper time away.  That's why we encourage and support our Human Maders to take a mini-sabbatical every couple of years, taking a month or so out of work to do something different.
Joe has just returned, safely and in one piece, from a real adventure taking part in the Mongol Rally; unfortunately I don't think the same can be said about the car. Taking part in the Mongol Rally had been a long-term ambition for Joe and after much preparation, the dream finally became reality this year. Joe teamed up with three friends to form team Tu Mongols and raise money for charity, complete of course, with Human Made sponsorship!
The rally started on 18th July in London and ended nearly a month later on 15th August in Ulaanbaatar, Mongolia, crossing Belgium, Netherlands, Germany, Czech Republic, Slovakia, Hungary, Romania, Bulgaria, Turkey, Georgia, Russia and Khazakhstan on the way.
The charities they have been supporting are Cool Earth and Wallace & Gromit's Grand Appeal. Donations are still gratefully accepted via the website. You can check out the Tu Mongols' Facebook page and website for their full blog, but here are some tasters!
18th July 2014 – We have finally made it… to the start of the rally. We are now in Battersea Park, London for the official start to the Mongol Rally 2014! The warm up 5 hour drive here went without a hitch, though there is some concerns for stability and likelihood of tipping the car. Due to the narrow, tall profile of the vehicle and our extra luggage on top, corners need to be taken at a reduced pace.
Last minute preparations were taking part as we mingled with the other rally goers and admired some much better prepared cars than our own. A couple of stray paint cans later, and some stickers — we now feel ready for the once-in-a-lifetime adventure ahead of us.
22nd July 2014 – Onwards to Hungary, via Budapest into Romania to head to Vama Vech Beach to again regroup with other ralliers.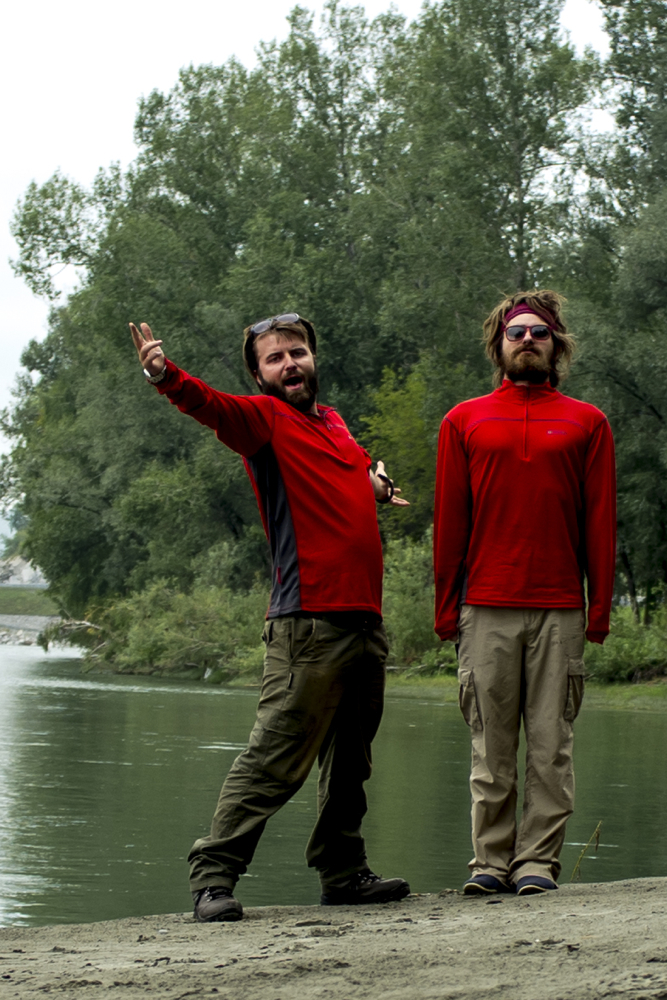 The scenery and culture changed significantly on entering Romania. Poverty, extreme road degradation and treacherous driving from lorry [sic; truck] drivers are things we experienced in the first hour of entering the country. With an average speed reduced to around 30mph (50kph) we were driving 'till the early hours.
This time a more upbeat atmosphere for another party, it seems Vama Vech is the Romanian version of Ibiza, possibly Magaluf! A "steak and chips" and some sleep later, we head to Turkey's semi-capital Istanbul. The Turkish border provides significant complication to our unprepared vessel, with not much cash about ourself; the Turkish border it seems has not caught up with the electronic payment system of debit/credit card — which we should have anticipated. Fortunately we were able to scrape together enough money to buy the required insurance from several currencies and help from others.
27th July 2014 – Onwards we head to Georgia's capital Tbilisi, where we meet with a fellow WordPresser George Mamadashvili who kindly takes us out to sample some excellent Georgian food and tell us some more about this fantastic, somewhat overlooked country. The drive north from Tbilisi is simply breathtaking. Mountains like I've never seen them before, utterly undisturbed; serene.
3rd August 2014 – This area of Russia is where a lot of Mongol Rally teams pass through, we meet a few on their way to dame border. Hinting at making very good time, we hit another snag. After a long drive through beautiful Russian steppe mountains — reminiscent of Georgia we hope to pass into Mongolia that night. No such luck. The border is closed for not only the night but the whole next day too – it seems Mongolia closes on a Sunday.
Having 36 hours to spare, we camp up with 5 or so other rally teams to wait it out. Early Monday morning we pack up to make the border for 8am, however the locals have their own idea about queueing which is essentially Mongol Rally people go last. Waiting 4 more hours (the border closes for lunch) we final make it out of Russia and into Mongolia.
15th August 2014 – "We made it folks! Today at around midday, we made it to the Car Graveyard to drop off the car. The journey across Mongolia has been amazing, awesome. This country has felt the most "other side of the world" with its very sparse road system, rolling mountains, sprawling deserts, sweeping herds and inspiring nomadic communities."
So that's about it! We meet up with some more teams and make our way to the finish line. Over 8800 miles, 15 countries, 45 litres of oil, 1 punctured tyre, too much hot porridge, 2 lost members, $500+ phone bill and more memories than one can shake a stick at.
It's been a blast, to say the least. We'll spend the night in Ulaanbatar partying and relaxing with other rallyers. For now it's some downtime and celebration, more photos and videos to come as we get motivation to sort through them! For those wondering, we are something like the 24th team to finish, out of 200 or so teams.