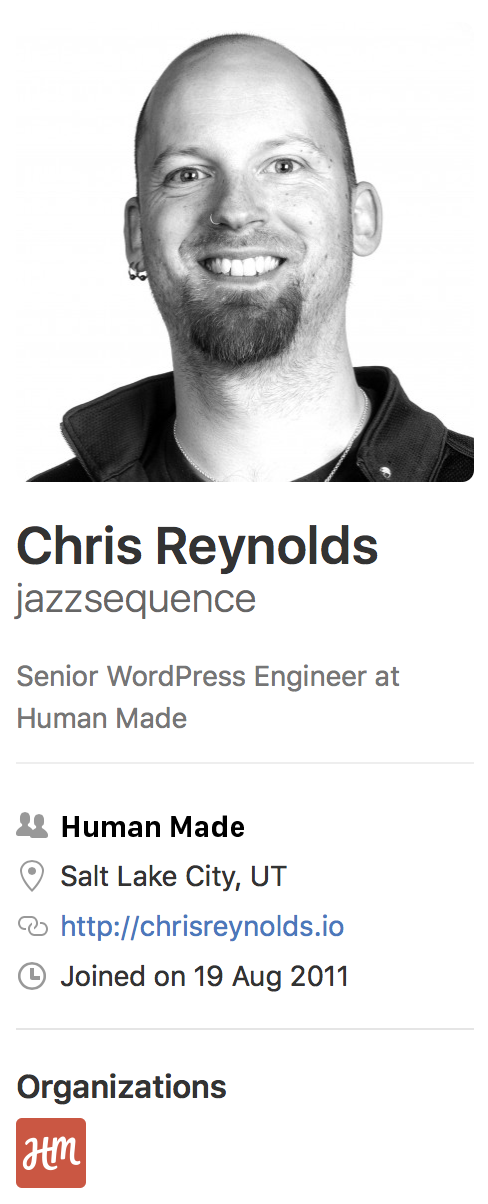 I'm really pleased to share that Chris Reynolds has joined Human Made as a Senior WordPress Engineer. Chris is a perfect fit for our agency team with strong experience leading the delivery of enterprise-scale WordPress for several well-known brands during his time with our friends at WebDevStudios and he's already making an impact across some of our larger Asia-Pac region projects. Welcome Chris!
– Tom Willmot
I'm thrilled and humbled to be joining the team at Human Made. Having spent some time working alongside the team, I've been overwhelmed by the warm welcome and incredibly smart people I've met.
My path into development was a bit circuitous in that when I graduated from the University of Redlands in 2001 with a degree through the Johnston Center program, which allowed me to create my own major and curriculum, I swore that I would never do web development as a profession. Fast forward several years of retail jobs and then tech support, web design and development started looking pretty good. But having an education in visual and creative arts, I considered myself a theme developer until I went to my first WordCamp and John Hawkins spoke about making your own plugins. I started building plugins for my own sites, then client sites, then took a pure backend development freelance job and realized that building things was truly where my passions lay.
Because open source has played such a big role in getting me to where I am today, I am passionate about open source, about the GPL and about giving back to the WordPress community.
I'm honored and grateful for the opportunity to join the Human Made family.