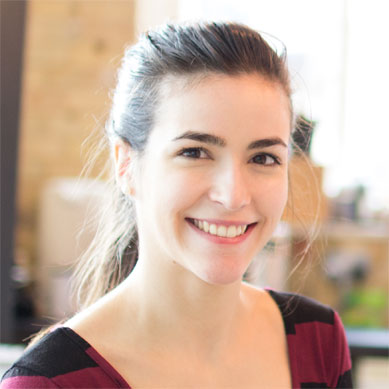 I'm really happy to announce that Elodie Bouneau has joined Human Made as Product Director. Already a member of the extended Human Made family, Elodie joins us from Happytables where as Head of Product she played a key role in guiding the team through a major pivot. Prior to Happytables, Elodie worked in London where she was CTO of London-based fitness brand Tribeca studios, and San Francisco where she worked on web products for a B2B SaaS platform and a digital agency. Elodie brings a lot of experience to the team and we're excited at the impact she'll have as we continue to bring a product focus to all we do.
– Tom Willmot
Thank you Tom! I am very excited and grateful to be joining Human Made as a full time family member. It has been a great ride and such a learning experience to work for Human Made's sister company, Happytables. It gave me the chance to work with many other Humans along the way before starting in this new role. It is an honor to be able to collaborate with such a bunch of talented individuals.
My background has always been working on digital products but was not always a product role: I started my career in San Francisco as Project Manager in a top B2B digital agency (sold to Teradata in 2014) and then I moved into some more Marketing oriented positions before getting some experience running the tech build for Tribeca as a CTO in London. Going through all these experiences made me realize that beyond titles, what I had been doing all along was building products. I am very much looking forward to continuing this at Human Made.
Also currently working with the Sponsor Team for WCEU 2017.
Personal projects for the year:
Build a Smart Mirror
Build a Home Food Computer (based on MIT Open Source Media Lab project)
Current addictions:
Green tea … lots and lots
The Newsroom … Oh so appropriate given current events