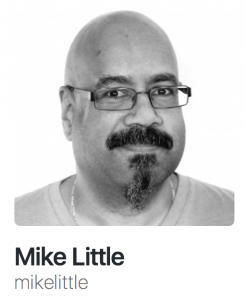 It's with huge excitement that I can announce that Mike Little is joining Human Made. Mike is the co-founder of the WordPress project, having forked a small blogging script, b2, with Matt Mullenweg. He has a long history with the project and brings with him unparalleled knowledge and experience of it. Mike will be joining Human Made as a WordPress Specialist; in addition to doing development on our client projects we're exploring ways for Mike to use his extensive talents in training and outreach, where we think he can have a big impact both on Human Made and on the wider community. He's a massive asset to the team, an old friend to many of us, and we're honored that he will call Human Made his home.
I am excited to join the Human Made family. I've known many of the team for quite some time and have worked with the company in the past, so I feel most welcome.
I'm looking forward to being able to work on larger projects. Something I couldn't manage in my one-man company. I'm anticipating being able to hone my  skills and take them to a new level.
Anyone who knows me knows I am passionate about free software and the GPL. I admire Human Made's commitment to giving back to WordPress and the community.