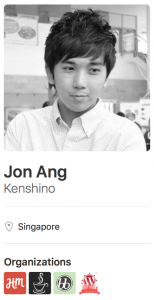 I'm thrilled to announce that Jon Ang has joined Human Made as a project manager. You may know Jon by kenshino, his WordPress.org username, where he has been doing fantastic work on the documentation project. In the short time he has been on trial with Human Made, Jon has already made a big impact on our client base in Singapore and we're excited to see him shepherd projects in Asia-Pacific in the future. Welcome on board Jon!
– Tom Willmot
It wasn't until last year that I seriously started considering joining an enterprise-level WordPress agency.
My own WordPress/formal development journey started with my own agency. I found an investor who enabled me to do so and worked with him for over 5 years. After a random experience of using WordPress for a pro-bono website, I picked it as the core software I'd use to power all of my client projects.
When running that agency, I was the lead developer, the creative director, the sales guy, the accountant and the project manager, I gained the skills to connect things at different touch points at a much deeper level.
So coming to Human Made as a project/product manager was as a natural fit. I had talked with Noel over the past year about Human Made's culture;  many people I like in the WordPress project work at Human Made which made the decision to apply an automatic one.
With the WordPress Community, I'm the Documentation team lead and also do various work with the Support Team, Theme Review, Core and Community teams. With the Community team, I'm focused on helping new meetups and WordCamps emerge from the Asia region. Growing the WordPress community in Asia firmly ties into my general fondness for the region and it's just a plus that it will tie into work as well. I'm also the Core Component Maintainer for Roles & Capabilities but have been finding hard to get time to actually do any major work on that aspect.
At Human Made, I've found communities that love reading, gaming and outdoor adventures. It's amazing how I've managed to find a place to do meaningful work and be able to play with my colleagues as well.
I'm looking forward to leading projects in the Asia-Pacific region, one that I firmly believe is the next growth in WordPress' enterprise future.