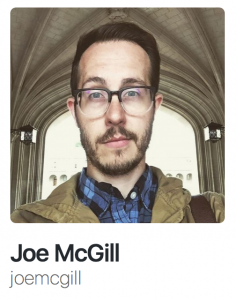 I'm very happy to announce that Joe McGill is joining Human Made as a WordPress Developer. Over the past few years, Joe McGill has made an outstanding contribution to WordPress core development, having started out by spearheading the introduction of responsive images in WordPress 4.4, to today when he is a permanent committer. He's a great example of what you can achieve by just showing up and getting work done. We're delighted that he's bringing his enthusiasm, tenacity and experience to the team at Human Made, and hope that we are a place that he can continue to flourish. Welcome Joe!
Thanks Tom. I'm thrilled to be joining the Human Made family.
I'm starting at Human Made after several wonderful years at Washington University in St. Louis, where I had the opportunity to help establish WordPress as a first-class enterprise CMS at one of the top research universities in the world. I've also spent the last several years contributing to WordPress core, most recently as a permanent committer on the core team.
It would be impossible to be involved in the WordPress project over the past several years and not be aware of the many contributions members of Human Made have made to the community. The expertise and commitment to quality I've observed from Human Made is staggering, so when the opportunity arose to join the team, I couldn't pass it up.
I started tinkering HTML almost two decades ago—back when layouts were in tables and loading images over a 28k modem was an exercise in patience. Over that time, I've fallen in love with the never-ending learning process that working with the web provides. I'm looking forward to continuing my education with Human Made.
Let's get building.