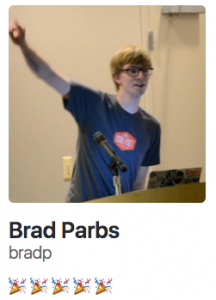 I'm excited to welcome Brad Parbs to Human Made as a Senior WordPress Engineer! Brad joins us from WebDevStudios where he spent more than three years, most recently as development lead. He has worked for big WDS clients, including Microsoft and HEB. As well as his client work, Brad has created open source tools such as VV – a site creation wizard that creates a new WordPress site using Varying Vagrant Vagrants, and has contributed to WordPress through core development and by speaking at WordCamps and meetups. It's great to welcome him to the Human Made team!
I'm super excited to be joining the amazing team at Human Made. The team here is incredibly talented and welcoming, and I feel like I fit in great already.
Since I stumbled upon WordPress, I've loved it. Before Human Made, I freelanced, worked at local agencies, and WDS. Throughout my career, I've had a passion for writing clean, documented, and extensible code. In the short time I've been here, I'm already working on projects that are doing some mind-blowing things with WordPress, and it seems that the entire team shares my values when it comes to writing code.
Here in Milwaukee, I help organize our local WordCamps and a few meetups. I've always tried to give back as much as I could to the WordPress project in general. I'm humbled to be part of a team that values giving back to the community so much.
Joining the Human Made family has already been amazing, and I'm looking forward to working with such a great team.