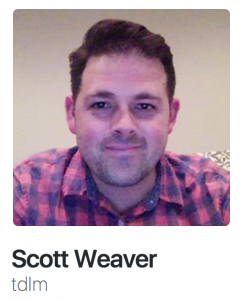 I'm very happy to welcome Scott Weaver to Human Made as a Senior WordPress Engineer! Prior to joining Human Made, Scott was lead WordPress developer at Vocativ, where he was responsible for developing the platform, implementing the REST API along with front-end technologies such as Backbone.js and React. His experience strengthens the team and grows our capacity in REST API development, and we're very excited that Scott's extensive skills will be available to Human Made clients. He is already proving to be a big asset to the development team and we're delighted to welcome him on board.
Tom, I can't thank you enough for the opportunity to work here.
Throughout my career, I've worked with other technologies, but have always ended up coming back to WordPress. Then at Vocativ, I had the chance to work with the REST API in conjunction with a universal React application on the front-end and that was it; I knew where I wanted to focus. After talking to Joe Hoyle and Tom about the things Human Made is working on, I was sold.
And then I met the humans of Human Made. During the last few months, I've remarked on how working with this team just sort of clicked for me, and that's completely true. Without having experienced other environments, it would be easy to take the talent on this team for granted, I think. But it is because of that talent, the upbeat attitude of everyone in general and the focus on creating an amazing remote-first experience that I was able to jump in full time the way I did.
All that coupled with the fact that this company gives back to the WordPress open source community makes me excited for what's to come.