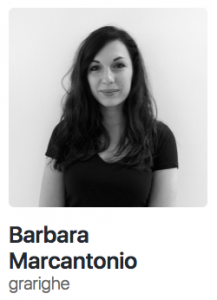 I'm delighted to welcome Barbara Marcantonio to Human Made as a Senior Designer! Over the past two years, Barbara has brought her impressive design talents to bear on many Human Made projects, including Happytables, Vantage, and Out of Office, and our client projects such the notable UX and design work she did for The Sun. In addition to working with us through Human Made, Barbara made a big contribution to WordPress with her design work for WordCamp London 2016. Barbara is our first full-time designer and she will be working on our internal projects and products, giving them the level of design refinement and professionalism that she brings to all her work. Welcome on board Barbara!
Thanks Tom! I'm very excited to now be officially part of the HM family!
I initially was into graphic design, video-editing and 3D but I found my vocation for web design in London. I worked 6 years for several digital agencies and startups focusing on UX/UI. At some point Noel and I stumbled onto each other when he was looking for a freelance designer. And now I'm so glad our paths have crossed!
Not only did I find a great tech company to work for but it truly opened my eyes on something I was only dreaming: travelling the world while working! I learned that being a "digital nomad" was *a thing*, and since then I just couldn't stop thinking about it! I worked hard to make the leap possible, and today I'm writing this from Seoul, quite unsure on where I'll be next month —and it feels great!
I love this team and I have great respect for the founders for having built such a great working culture. I can't wait to start building great things and bring even more inspiration, fun and creativity into the mix!