In March this year we organised the second edition of A Day of REST, our developer conference about the WordPress REST API. The first version of the event was in London, and the second edition was in Boston.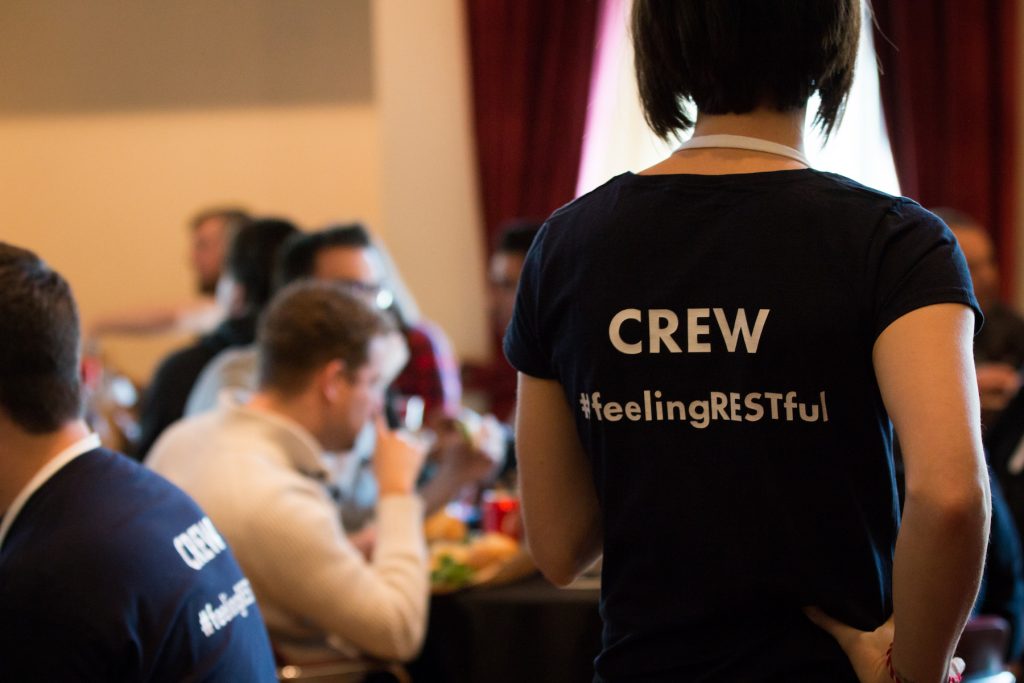 At Human Made we place huge importance in open source and collaboration. These values underpin everything that we do – when we share what we've learned and collaborate with one another we can achieve more than we do on our own. In that spirit we've decided to share our final budget for the event, along with our successes and our failures.
You can find the budget right here; in this post I'll talk about some of the figures.
The bottom line
The final figures come down to this:
Total expenditure: $85,505
Total income: $78,641
Deficit: $6,863
These breakdown as follows:
Income:
Ticket sales: $46,641
Sponsor income: $32,000
Expenditure:
Fixed costs: $5,446.82
Ticketing costs: $1,918.33
Speaker costs: $7,302.42
Staff costs: $44,646.66
Catering costs: $4,057.76
Website, branding, swag: $9,940.07
Social food & drinks: $3,612.40
Workshop costs: $8,581.20
Misc costs: $695.56
Discussion
As you can see from the above, we ended up with a $6,863 deficit. This was primarily down to the fact that we didn't sell as many tickets as we had hoped. We had planned to sell 300 tickets and we ended up with 139 attendees. This is a significant number of tickets we didn't sell – if we had done we would have sailed through our target to break even. We were worried that this would have a detrimental effect on the event – we didn't want it to feel empty and detract from attendees' experience; however, we closed off the balcony, kept everyone downstairs and it felt like a good number of people.
The other income stream we had was sponsorship: we did not sell all of our sponsorship slots, however we increased sponsors sales from 50% at A Day of REST London to 66% at A Day of REST Boston, which we were more than happy with. Thanks again to Pantheon, Envato, WP Engine, Bocoup, Gravity Forms, Codeable, Pagely, GoDaddy, Dreamhost, SiteGround, SiteLock, Restrict Content Pro, ProsPress, and Skyverge who have been really supportive throughout our events journey.
Our expenditure came in considerably lower than anticipated: most of this was down to lower variable costs such as catering and swag, which was reduced due to the lower than anticipated ticket sales. Another place that we spent less than we expected was on salaries. We just estimated a figure when we put together the original budget but by the end of the event, we had a clearer picture of how much time everyone had spent on it. This worked out at around 111 days in total.
So what about that deficit?
We hoped to make a small profit but instead we had a small deficit. In terms of the overall budget and looking at it in the context of Human Made's overall income streams, we were still happy with the result. Our goals for organising events are not to make money, though obviously making money is nice. A Day of REST Boston was about more than the bottom line.
The following mission statement guides us through organising all of our REST events:
Inspiring and educating developers to take new directions in WordPress, expand opportunities, and build modern projects in any technology.
We wanted to:
educate the developer community about the WordPress REST API
share what we have learned about the REST API
inspire developers to do more with WordPress and get them thinking about the possibilities available to them
raise the company's profile as an enterprise development agency
create connections between the WordPress and broader development communities
In terms of these aims, the minor deficit that we had was worth incurring.
Things that we've learned
There are some things that we have learned along the way that we hope you can learn from too:
start small and scale up. It's better to sell out and create demand than to overstretch and be anxious about ticket sales. This also helps with financial planning.
make sure you have clear goals for your event beyond the bottom line. This is particularly important if you are not an events company and the event you are putting on is in support of a wider business.
don't skimp on attendee experience. Every attendee has paid to attend your event and it's not their problem if you haven't sold as many tickets as you would have liked. You should still give them the same quality experience.
be good to your sponsors and they will come back and support you in the future.
if you are organising in the WordPress space you're competing against WordCamps which many potential sponsors are already heavily invested in. You need to differentiate yourself and offer them more.